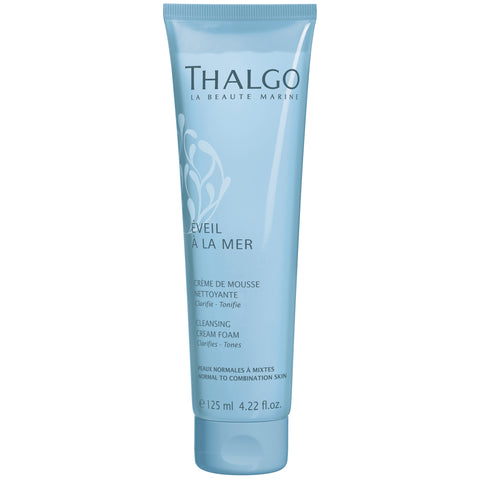 THALGO CLEANSING CREAM FOAM
Thalgo Cleansing Cream Foam, with Sève Bleue from the Oceans, is a luxurious cream that cleanses, clarifies and tones normal to combination skin without drying it out. This water-based cleanser...
Thalgo Cleansing Cream Foam, with Sève Bleue from the Oceans, is a luxurious cream that cleanses, clarifies and tones normal to combination skin without drying it out. This water-based cleanser has a rich creamy texture that turns into a dense foam on contact with water. Scent of refreshing sea spray and fresh flowers
Apply Thalgo Cleansing Cream Foam morning and evening to the entire face and neck, lather with water, and then rinse with water. Follow with Thalgo Beautifying Tonic Lotion.
Thalgo Cleansing Cream Foam contains Sève Bleue from the Oceans and a complex of plant-based amino acid derivates (apple and glycerin)
About us
Founded in1964, the company's aim was to manufacture algae-based products for the medical field. In 1968, the THALGO brand was registered and began supplying leading thalassotherapy centers with micronized marine algae.
Today, THALGO has become the uncontested name in the world of "Marine Beauty." Creating, manufacturing and marketing treatments, cosmetic products and marine-based nutritional supplements in more than 90 countries for thalassotherapy centers, spas and resorts. In France, 1 out of 5 centers has chosen THALGO as its partner brand.
Headquartered in the southeast of France in Roquebrune-sur-Argens (the Var region), THALGO is a Group in constant expansion:
-Turnover of $77 million
-450 employees
-15 companies (3 of which are subsidiaries)
-2 laboratories
-2 integrated production units
-20,000 + outlets across the world
THALGO continuously reinforces its environmentally friendly practices:
-Supporter of the "Marine Conservation Society
-Invested in solar panels which help reduce CO2 emissions
-Implemented an ecofriendly Formulation Charter (for the development of its products)
-All new formulas are free of parabens, mineral oil, propylene glycol, GMO's, and ingredients of animal origin.
In 2008, the Group put in place specific beauty training in its School for the visually impaired.
360° Beauty by THALGO
THALGO offers a complete treatment approach, for improved results both for your clients and your business. We know combining treatments with homecare improves results, but what about targeting beauty concerns such as anti-aging, dry skin and slimming from within? With THALGO's Nutrition range, you can offer your clients added effectiveness.
THALGO offers a complete skincare range addressing all individual beauty concerns including: hydration, contouring, anti-aging, rebalancing, sensitivity, and pigmentation. Our award-winning Exceptional Care Facial is designed for spectacular anti-aging and lifting results. Terre & Mer by THALGO is an organic range with a double environmental certification.
THALGO's body treatments provide specific care for detoxification, cellulite, slimming, muscle fatigue, and spa rituals. The Slim & Sculpt Expert is the first fitness session in the treatment room multiplying the results tenfold by combining massage with cellular contraction.
The Sea and Us
THALGO is inspired by thalassotherapy, spa treatments that use real seawater and seaweed to effectively treat a range of conditions from skin problems, such as eczema, to excess weight, low energy levels and fluid retention.
We all know how beneficial the sea is for health and well-being. THALGO has been able to harness these extraordinary benefits in its range of spa treatments and skincare products. For more than 50 years, THALGO has explored the sea depths and identified specific seaweeds with anti-aging, slimming, detoxifying, rebalancing, hydrating and soothing properties.
Our patented Micronized Marine Algae (MMA) provides outstanding results in the medical treatment of conditions such as rheumatism, arthritis and skin disorders. Due to a unique manufacturing process, the cell walls of the marine algae are literally exploded to release the active inner ingredients. The micro-particles of the resulting powder ensure remarkable skin penetration.
The sea is where life on our planet began. Three billion years ago the first living cells were single cell blue algae. When you analyze seawater under a microscope, you can see it has a very similar structure to blood plasma. The human body is made up of approximately 70% water. The sea makes up 3/4 of the earth's surface. Algae are responsible for 1/3 of the world's oxygen production.
"Sea washes away all of man's ills."
We offer FREE Standard Shipping on all U.S. merchandise orders $50 and over (excluding taxes).
Shipping Method
Costs
Total Delivery Time
REGULAR SHIPPING


$50.00 and up

FREE
5-8 BUSINESS DAYS
STANDARD SHIPPING


$0.00 - $49.99

$5.95
3-5 BUSINESS DAYS
PRIORITY MAIL


$0.00 and up

$9.95
3-5 BUSINESS DAYS
PRIORITY MAIL EXPRESS


$0.00 and up

$16.95
2-3 BUSINESS DAYS
We hope that you will be pleased with your order. If for any reason you're dissatisfied with your purchase, we will gladly offer a refund or exchange on all products returned to us within 45 days from the time of purchase, provided they are returned in their original packaging, in an unopened and unused condition.
Learn more about our SHIPPING and RETURNS AND EXCHANGES policies.