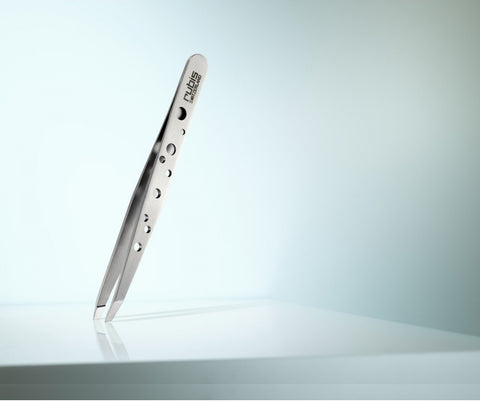 Rubis Switzerland Tweezers Classic Elegance
Stainless Steel Swiss Slanted Tip Tweezer 3-3/4"The Classic Elegance is a high-quality cosmetic tweezers that facilitates comfortable, precise use: The model with slanted tips is particularly suited for the removal...
Stainless Steel Swiss Slanted Tip Tweezer 3-3/4"
The Classic Elegance is a high-quality cosmetic tweezers that facilitates comfortable, precise use: The model with slanted tips is particularly suited for the removal of ingrown hairs or splinters. The slanted tips are ideal for plucking eyebrows, the removal of facial hairs and epilating unwanted hairs in other body zones. Completely made of high-quality surgical steel, Rubis Elegance can be disinfected and sterilized without a problem. Thanks to its perfect ease of handling, make-up artists like Bobbi Brown and Soul Lee prefer to work with Rubis cosmetic tweezers. 

Plucking tips
Don't rush, take everything one step at a time – you don't need to do it all at once. The best time to pluck your eyebrows is right after showering. This is when your pores are at their widest and the hairs are easiest to remove. Make sure you have plenty of light and a comfortable work space in front of you where you can sit at ease and rest your elbows on the surface. And you'll need a mirror. Make the most of this time for yourself, and enjoy doing something for your own well-being.
Always work with the natural shape of your brows. You don't want different brows, you want beautiful brows.
Trim very long brow hairs before you start plucking. The Rubis baby scissors are perfect for trimming brow hairs safely, carefully and precisely. This will give you a better idea of the natural line of your brows.
Stretch the skin between two fingers and pluck a hair. Always take them one at a time and always pluck in the direction of hair growth.
The three important steps are: pluck it, comb it, check it. If you do this, you won't make any mistakes.
Don't be afraid to pluck hairs fast. Just take hold of the hair low down, near the root. Then it won't break.
Do not pluck from the top edge of your brow. Correcting the line at the bottom of the brow gives a more natural-looking and harmonious result.
To keep the curve of your eyebrows symmetrical over both eyes, always pluck hairs from both brows in turn: left, then right, then left again, and so on.
Make sure that the brow is a little thicker near the bridge of the nose. The brow line should taper as it gets toward the end. For a harmonious overall impression, the inside of the brow should also be thicker than the outside.
After plucking it's best to apply a soothing skin cream. Creams with chamomile extract are particularly good.
To be on the safe side, pluck your eyebrows the day before you plan to go out! This gives your skin time to calm down.
What characterizes a really good pair of tweezers? Three things: The perfect closing of the tips, their precise edges, and an arm tension that, when squeezing the tweezers, yields a lightly-resilient resistance. Sensitive qualities that, even with a great deal of experience and expertise, can only be coaxed out of the steel when it is of the highest quality. Which is why compromises are not an option. We therefore only work with top-quality surgical steel. which is acid-proof, antimagnetic and rustproof. Thanks to these outstanding material characteristics, our tweezers retain their perfect functionality for many years.
The company
Luxury, from the heart.
"Superficial luxury and the times of overstatement are over. Instead, there is a new luxury that focuses on the value of things. I call it sincere luxury. People want things that aren't more inflated than they really are. It is an unhurried luxury, without shortcuts and sensationalism. And this is how I see our tweezers: Because they are the realisation of the best that a pair of tweezers can be. Thought through right down to the last detail, without compromising on materials or workmanship, in a timeless design that sidesteps all fashionable and short-lived trends. This return to real value is what I consider to be today's luxury." Fides Baldesberger
Manufacture
All of our products are made by hand from the best steel, consistent with all the rules of traditional craftsmanship. And during all processes, our products are repeatedly tested and controlled, so that no product leaves our manufacturing facilities that does not meet with the very highest standards. It is this desire for perfection that can be sensed in every one of our products - including our tweezers, which you are perhaps holding in your hand right now. Similar to a greenhouse with just the right climate, we try to create an atmosphere in which our employees can give their all and be creative, so that maximum quality can evolve. The individuals with whom we work have the knowledge and experience to achieve excellent results in their specialised areas. And when necessary, they can work quickly and efficiently. However, when it's a matter of the utmost accuracy and care, they allow themselves the time that is needed - for example, when putting the final touches on the tips. Our passion for quality reflects our quest to preserve Swiss craftsmanship and, at the same to, to combine this with state-of-the-art technology.
Steel is feminine
Around 40 tonnes of only the very best high-grade steel are used yearly in Rubis' manufacturing process. It must not only be rust-proof, it cannot weaken, as this would cause the tweezers to lose their tension; and they must also be acid-proof, so that they can be sterilised without a problem. The quality of the steel is decisive for that of the finished product. Because only when the steel itself is produced with the greatest possible care, does it ultimately yield the grade required to manufacture fine precision instruments. Rolled up like a snake, it arrives in coils at the plant where it is rolled out, formed and processed.
This is where it is then transformed into tweezers or scissors. Each and every time, the form must be wrested from it anew. There's something archaic about steel -and, at the same time, something ultramodern. It is from this hard material that Rubis creates its gentle, rounded forms - the classic Rubis design. "The steel remains the same", says Fides Baldesberger. "It invites one to experiment, to discover the many things that can be done with it. Every time it's a fight to determine who is stronger: the idea or the material. For me, steel is feminine."
Social management
We believe that there is also a social quality to work. This is one of the values that are part of our range of products. And we believe that that is something one notices. Because every product is also always a result of the manner in which a company deals with its staff and suppliers. Mutual respect and standards, such as adequate remuneration and proper working conditions are quality factors for us.
Rubis, an internationally renowned premium brand
Rubis has established itself as a brand with an excellent image thanks to years of continuous brand management. It remains important, however, to prove every day that consumers are right to place their trust in this premium brand. Time and again, the pioneering spirit behind Rubis produces market-leading innovations.Thanks to the entrepreneurial skill and long-term vision of Fides Baldesberger, Rubis has developed into a modern, internationally leading manufacturer of cosmetic precision tweezers.
Make-up artists such as Bobbi Brown (USA), Fred Hamelten (Norway) and Wingie (Lancôme Hong Kong) as well as renowned international companies including Estée Lauder and MAC swear by our products.Using its own workshop, Rubis is able to meet high expectations and create an individual and creative signature product. In this workshop, we manually design and handcraft the products that are then later produced with the help of our machines.
Made in Switzerland
There are a few things which are really important to us Swiss. And which explains why one can sense them in our products. Precision for example. The typical Swiss desire to design everything with the utmost meticulousness, right down to the last detail; the perfectionism that drives us to not give up before everything is exactly as it should be. This is simply an integral part of our makeup. Maybe we developed this passion because the winters in the remote Alpine villages used to be so long - after all, we needed to do something. The very finest watchworks, for instance. As we have no raw materials to speak of - ourselves excluded - we attach great importance to things that are long-lasting. So long, ideally, that they can be passed on from one generation to the next. That's how we build our houses, knives, watches, bags - and our tweezers. And which is why we don't like any unnecessary odds and ends, but rather straight-forward, timeless functional forms, without extra frills.
Here's where we work
Rubis actually lives it values. The architecture of our headquarters in Stabio, Switzerland, embodies the symbiosis of traditional craftsmanship and contemporary design. At the front, a timelessly-attractive new building for the administration; behind this, the long hall of our manufacturing facility with its machines and around 40 men and women who file, hammer, cut and grind. The minimalistic forms and materials of the products are reflected in the architecture. At the entryway is a pond with Japanese koi fish and an installation by the artist Daniel Spoerri; to the rear is a warehouse with thousands of different tweezers. It is this unique mixture that makes the location so fascinating: nature and art, creativity and skill, the traditional and the modern.
We offer FREE Standard Shipping on all U.S. merchandise orders $50 and over (excluding taxes).
Shipping Method
Costs
Total Delivery Time
REGULAR SHIPPING


$50.00 and up

FREE
5-8 BUSINESS DAYS
STANDARD SHIPPING


$0.00 - $49.99

$5.95
3-5 BUSINESS DAYS
PRIORITY MAIL


$0.00 and up

$9.95
3-5 BUSINESS DAYS
PRIORITY MAIL EXPRESS


$0.00 and up

$16.95
2-3 BUSINESS DAYS
We hope that you will be pleased with your order. If for any reason you're dissatisfied with your purchase, we will gladly offer a refund or exchange on all products returned to us within 45 days from the time of purchase, provided they are returned in their original packaging, in an unopened and unused condition.
Learn more about our SHIPPING and RETURNS AND EXCHANGES policies.