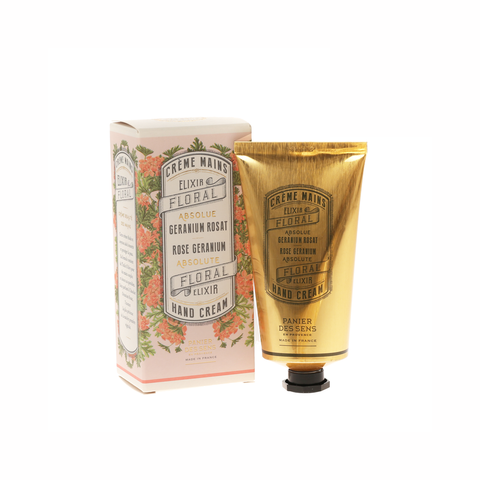 PANIER DES SENS ROSE GERANIUM HAND CREAM
ROSE GERANIUM ABSOLUTE FLORAL ELIXIR THIS SILKY CREAM HELPS NOURISH AND PROTECT THE SKIN. AN ULTIMATE BEAUTY RITUAL, THE FORMULA CONTAINS OLIVE OIL FOR DAILY SOFT AND SUPPLE HANDS.  ...
ROSE GERANIUM ABSOLUTE FLORAL ELIXIR THIS SILKY CREAM HELPS NOURISH AND PROTECT THE SKIN. AN ULTIMATE BEAUTY RITUAL, THE FORMULA CONTAINS OLIVE OIL FOR DAILY SOFT AND SUPPLE HANDS.
Rose Geranium absolute floral elixir
This silky cream helps nourish and protect the skin. An ultimate beauty ritual, the formula contains olive oil for daily soft and supple hands.
Formulated with 96% of natural origin ingredients.
ROSE GERANIUM
Introduced in Europe during the 17th century, geraniums were initially used for medicinal purposes. They were soon used in perfumery as well, for the aromatic properties of their leaves and stems. The rose-like aroma of geranium is particularly delicate, both sweet and strong, very similar to that of rose, yet distinctive thanks to its light green and citrus notes. PANIER DES SENS has selected the Pelargonium Graveolens, also known as Rose Geranium to embody the first fragrance of this iconic collection.
BORN IN PROVENCE
It is in the South of France that PANIER DES SENS cosmetics are conceived and developed.
Inspired by natural resources and Mediterranean know-how, the lines of body care, toiletries and perfumes magnify the beauty of Provence through elegant products, subtle textures of evocative and delicate scents.
We combine research and nature to take the best that Provence has to offer.
FOUNDER JEROME LAMBRUSCHINI
Born in Marseille and nurtured from an early age in the gentle lifestyle of Provence, Jérôme Lambruschini grew up in the shade of the cypress trees and mimosas of the Southern Alps region. He spent every vacation in the family house at Sault in the Vaucluse, among the foothills of Mount Ventoux.
His grand-father passed him down his passion for trees, the vegetable garden and nature. As for his mother, she instilled in him her love for the earth and perfumes. It is from the roses, lavender and olive trees grown by neighboring producers that the idea of PANIER DES SENS was born 15 years ago.
IT IS THIS EXCEPTIONAL TERROIR THAT LED ME
TO REDISCOVER OUR TRADITIONAL CROPS.
THEY ARE A GENUINE LINK BETWEEN THE MEN
WHO SHAPE AND PROTECT THE ENVIRONMENT.
JÉRÔME LAMBRUSCHINI,
FOUNDER OF PANIER DES SENS
THE ORIGINS OF PANIER DES SENS
In Marseille, the tradition of quality soap making is not only about heritage, it is a genuine way of life. This mythical product has established itself as a universal reference thanks to the alchemy talents of the master soap makers.
Composed of a minimum of 72% exclusive vegetable oils, Marseille soap is produced without coloring or synthetic surfactants.
This unique know-how is the foundation on which PANIER DES SENS develops its current product expertise: natural formulations and extensive research on active plant substances.
A complete line including bath, skin care and fragrances that has been under development for over fifteen years, based on traditional soap making expertise and plants from Provence and the Mediterranean.
ABOUT
OUR SOURCES
It is thanks to the complicity of a son and his mother that PANIER DES SENS was born in 2001, a foot in the United States but the heart in Provence.
After ten years of good fortune on the other side of the Atlantic, the company goes back to its French and Mediterranean roots while settling down permanently in Marseille. Veritable extracts of Provence, PANIER DES SENS's authentic and all natural body care products have always been inspired, conceived, manufactured and packaged in this southern land, bordered by the Rhône Valley, Italy and the Mediterranean Sea.
OUR SIGNATURE
The visual identity of PANIER DES SENS pays tribute to nature and its Provençal heritage. An old-fashioned wrought art iron works, designed in a contemporary style, with plant motifs and topped by a lively bee, symbolizes the soul of Provence.
These attributes reflect the foundations of the brand and come beneath a soft lime green foliage.
OUR OLFACTIVE IDENTITY
It is Jérôme Lambruschini's fascination for perfumes that sparked the creation of beauty products... The first briefs are made by a family friend, perfumer from Grasse. Still today, a collective of perfumers recreates a universe of evocative scents from the region, true to the local customs of Grasse - cradle of the high French perfumery.
Our Eau de parfum (alcohol free) fragrances are crafted around a central essential oil.
Like the body care line, they are exclusive to our brand, conceived in Grasse and specially formulated for PANIER DES SENS.
We offer FREE Standard Shipping on all U.S. merchandise orders $50 and over (excluding taxes).
Shipping Method
Costs
Total Delivery Time
REGULAR SHIPPING


$50.00 and up

FREE
5-8 BUSINESS DAYS
STANDARD SHIPPING


$0.00 - $49.99

$5.95
3-5 BUSINESS DAYS
PRIORITY MAIL


$0.00 and up

$9.95
3-5 BUSINESS DAYS
PRIORITY MAIL EXPRESS


$0.00 and up

$16.95
2-3 BUSINESS DAYS
We hope that you will be pleased with your order. If for any reason you're dissatisfied with your purchase, we will gladly offer a refund or exchange on all products returned to us within 45 days from the time of purchase, provided they are returned in their original packaging, in an unopened and unused condition.
Learn more about our SHIPPING and RETURNS AND EXCHANGES policies.