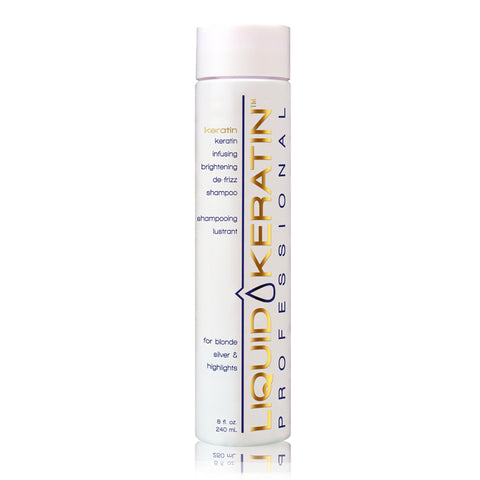 Liquid Keratin Infusing Brightening De-Frizz Shampoo
Say goodbye to color fading and that unwanted yellow! Our blue/violet shampoo combines a special Color Enhancing Sunflower Seed Extract and other key antioxidants with our Keratin Protein Complex to gently...
Say goodbye to color fading and that unwanted yellow! Our blue/violet shampoo combines a special Color Enhancing Sunflower Seed Extract and other key antioxidants with our Keratin Protein Complex to gently clean and condition hair, while protecting & restoring color, preventing yellowing, and brassiness.
Neutralizes yellow/brassy tones and brightens blonde and silver hair.
Moisturizes as it protects hair from sun damage, leaving even frizzy hair silky smooth.
Helps prolong and improve the results professional salon keratin treatments.
Combats the adverse effects of UV radiation.
Adds fabulous shine.
Strengthens and smoothes hair.
Paraben free and Sodium chloride free.
Stylist-driven and tested formulas.
Use every 3rd or 4th wash, or once a month. Apply shampoo to wet hair and gently massage. Rinse thoroughly and repeat if necessary.
Water, Ammonium Lauryl Sulfate, Aloe Barbadensis Leaf Extract, Cocoamidopropyl Betain, Ammonium Laureth Sulfate, PEG 150 Distearate, Keratin, Panthanol, Polyquaternium-10, Cetyl Trimethyl Ammonium Chloride, Hydrolyzed Keratin, Helainthus Auuuus (Sunflower) Seed Extract, Vitis Vinifera (Grape) Seed Extract, Glyceryl Stearate SE, Fragrance,, Polysilicone-15, Disodium EDTA, Caprylyl Glycol, D&C Violet No 2, Methylisothiazolinone
Liquid Keratin was founded in 2008 when two entrepreneurs set off on a mission to find a better alternative to control un-manageable hair than the popular, yet expensive, toxic, and dangerous treatments being offered by salons. From this idea, Liquid Keratin was born as the first and only simple and safe keratin home treatment offering damage free and superior results to anything currently offered in the market.
Liquid Keratin's 30 Day Treatment is a patented, revolutionary, formaldehyde free, safe, easy to use, at home keratin hair treatment that tames unwanted frizz, loosens curl, smoothes and softens hair texture, adds shine, and keeps hair manageable and healthy for as long as 30 days with just one application.
Having revolutionized the home treatment category, Liquid Keratin then set its sights on the professional salon market with the launch of its Liquid Keratin Professional Restorative Smoothing Treatment in late 2011. This exclusive keratin system is formulated to promote the smoothing and semi-permanent relaxing of a range of hair types while repairing damage caused by other chemical processes. It was the first truly formaldehyde free Keratin treatment to hit the market. Liquid Keratin Professional is also free of all donors/releasers of formaldehyde, aldehydes, thio, sodium hydroxide urea, and guanidine.
Always on the hunt for new and better technology, Liquid Keratin is excited to have launched a new and improved home treatment with its 60 Day Straighter, Smoother, Stronger, and Longer Treatment. This new treatment provides even better and longer lasting results while being formaldehyde and aldehyde free. The new and improved Liquid Keratin at home treatment is the first retail treatment with the ability to offer salon quality results lasting 60 days and beyond.
While Liquid Keratin has developed the most advanced, revolutionary at-home and salon keratin treatments, the company also offers a range of ancillaries including the hugely popular Keratin Infusing Healthy Hair De-Frizz Shampoo and Deep De-Frizz Conditioner which improve and enhance the results of the Liquid Keratin treatments as well as those of other popular salon keratin treatments.
Liquid Keratin continues to aggressively research and develop new products to provide options for all hair types as the company continues to revolutionize the hair care industry.
We offer FREE Standard Shipping on all U.S. merchandise orders $50 and over (excluding taxes).
Shipping Method
Costs
Total Delivery Time
REGULAR SHIPPING


$50.00 and up

FREE
5-8 BUSINESS DAYS
STANDARD SHIPPING


$0.00 - $49.99

$5.95
3-5 BUSINESS DAYS
PRIORITY MAIL


$0.00 and up

$9.95
3-5 BUSINESS DAYS
PRIORITY MAIL EXPRESS


$0.00 and up

$16.95
2-3 BUSINESS DAYS
We hope that you will be pleased with your order. If for any reason you're dissatisfied with your purchase, we will gladly offer a refund or exchange on all products returned to us within 45 days from the time of purchase, provided they are returned in their original packaging, in an unopened and unused condition.
Learn more about our SHIPPING and RETURNS AND EXCHANGES policies.