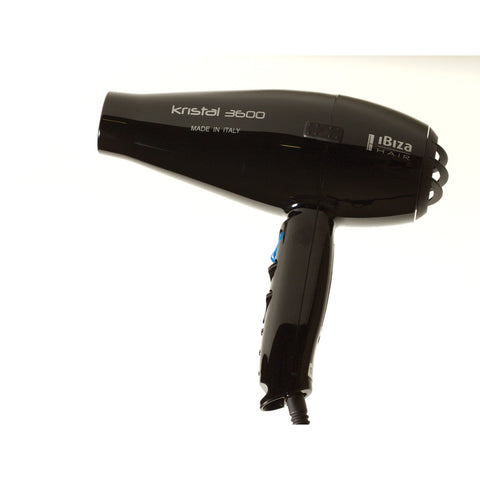 IBIZA HAIR BLACK KRISTAL 3600 HAIR DRYERS
Black Ibiza Hair Kristal 3600 Black. We searched the world for a blow dryer that would work harmoniously with our world famous round brushes. The Kristal 3600 is a high...
Black
Ibiza Hair Kristal 3600 Black. We searched the world for a blow dryer that would work harmoniously with our world famous round brushes. The Kristal 3600 is a high performance hair dryer. It's lightweight, yet powerful and has perfect balance to go with the lightweight Ibiza Hair brushes. It's a classic dryer that blow drys hair in half the time of a regular dryer. Enormous airflow gets hair voluminous in minutes. The Kristal 3600 is a true AC motored hair dryer with no ceramic or tourmaline. AC motors are used in professional dryers and are quieter, last longer and allow the heater to shut off. The Ibiza Hair Kristal 3600 blow dryer is a true pro that delivers massive air flow and power, while  remaining surprisingly lightweight and perfectly balanced.
Includes 2 nozzles, 1875 watts.
Made in Italy.
Great Hair Begins with Great Styling Tools
Ibiza Hair has been making history in the beauty industry since the 1950s. That's when Max Johles, father of Ibiza Hair's founder Aaron Johles, began selling brushes and beauty supplies from the trunk of his car.
Fine salons valued Max and his line of all-natural hair care products. So when Aaron took over the business after his father's death, he continued the tradition of offering the highest quality hair care tools—and took it further with new innovations based on real-world research.
"I traveled to all the hair shows in Italy, Spain, England, Australia, Japan, and Hong Kong, looking for the next big thing," says Johles. "Then one day, I realized I didn't have to look anymore. I already had it with Ibiza Hair brushes. I just needed to let the world know."
Their unique blend of boar and nylon bristles and incomparably supple, ergonomic cork handles makes Ibiza Hair brushes loved by stylists at top salons including Chris Mcmillan Salon Beverly Hills, Meche Salon Beverly Hills and Andy Lecompte Salon Hollywood. And it's no wonder.
A licensed hair stylist himself, Aaron knows first-hand the importance of brushes that can grab yet slip. As he worked with top hairdressers and in famous salons such as Cush in Beverly Hills and McMillan Canale in Malibu, Aaron learned that great styling tools make for great hair.
That's why the Ibiza Hair brushes are made from the finest materials—eco-friendly, flexible yet resilient cork from the Mediterranean, plus a secret blend of natural boar and heat-resistant carbon fiber bristles from Spain that perform like no other boar bristles can. No getting stuck. No ripping. No breakage. Just totally controlled "grab-and-slip" when you want it, making it easier for you to offer your clients smooth, shiny hair that looks and performs the way it should.
All Ibiza Hair styling tools are top performers in their class. Aaron and his wife Elena, an accomplished hair stylist who has worked with top hairdressers including Jerricho Mora, Terah Tidy, Michael Polsinelli, and Amy Edwards, do extensive R&D. This way, they ensure that all Ibiza Hair products, from combs to scissors, blow dryers to flat irons, are tools that any haircare professional will be proud to have in their kit.
We offer FREE Standard Shipping on all U.S. merchandise orders $50 and over (excluding taxes).
Shipping Method
Costs
Total Delivery Time
REGULAR SHIPPING


$50.00 and up

FREE
5-8 BUSINESS DAYS
STANDARD SHIPPING


$0.00 - $49.99

$5.95
3-5 BUSINESS DAYS
PRIORITY MAIL


$0.00 and up

$9.95
3-5 BUSINESS DAYS
PRIORITY MAIL EXPRESS


$0.00 and up

$16.95
2-3 BUSINESS DAYS
We hope that you will be pleased with your order. If for any reason you're dissatisfied with your purchase, we will gladly offer a refund or exchange on all products returned to us within 45 days from the time of purchase, provided they are returned in their original packaging, in an unopened and unused condition.
Learn more about our SHIPPING and RETURNS AND EXCHANGES policies.