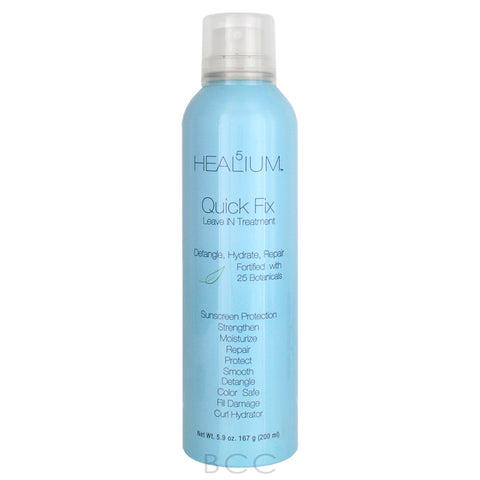 Healium Quick Fix Leave-In Treatment
An incredibly versatile leave-in treatment that provides nutrition, shine, moisture, smoothness and UV protection to dry, damaged, over-worked hair without leaving a heavy residue build up. Quick Fix can be...
An incredibly versatile leave-in treatment that provides nutrition, shine, moisture, smoothness and UV protection to dry, damaged, over-worked hair without leaving a heavy residue build up. Quick Fix can be blended with any smoothing products to encourage healthy styling. Use Quick Fix on all hair types, especially on curly hair to accentuate and moisturize curls. A regular regimen of Quick Fix will help to bring damaged hair back to a healthy state.
BASIC APPLICATION: Distribute small amount throughout clean damp hair, more where hair is damaged. Style as normal. Quick Fix can be cocktailed with any styling product to enhance smoothness and shine. CURL HYDRATION APPLICATION: Distribute throughout curl hair evenly. Diffuse or scrunch dry in.
Water, Aloe Vera Juice, Behentrimonium, Methosulfate & AMP, Cetearyl Alcohol, Amodimethicone & AMP, Cetrimonium Chloride & AMP, Trideceth-12, Glycerin, Propylene Glycol, Cetearyl Alcohol/Peg-40 Castor Oil/Stearalkonium Chloride, Peg-75 Lanolin, Peg-75 Shea Butter Glycerides, Dimethicone Peg-8, Meadowfoamate, Peg-9, Dimethicone Peg-9, Olive Phosphate, Marigold Extract, Kelp Extract, Echinacea Extract, Marshmallow Extract, Vitamin A,E,F,Biotin, P-Amino Benzoic Acid, Pantothenate, Inosotol, Horse Chestnut Extract, Sunflower Oil, Linseed Oil, Octyl Methoxy Cinnamate, Wheat Germ Oil, Vitamin Eacetate, Pomegranae Oil, Phenyltrimethicone, Castor Oil, Decamethyl Cyclopentasiloxane/Octamethyl Cyclotetrasiloxane, Guar/Hydroxypropyl Trimethyl/Ammonium Chloride, Hydrolyzed Wheat Protein, Hydrolyzed Soy Protein, Silicone Quaternium-16, Undecethy-11, Butyloctanol, Undeceth-5, Hydrolyzed Keratin Protein, Hydroxythyl Cellulose, Glutamic Acid, Ascorbic Acid, Arginine, Glycine, Methionine, Lysine, Menthol, Fragrance, Dmdm Hydantoin, Allantoin, Methylparaben, Centellin Extract, Propyl Paraben Citric Acid, Tetra Sodium, BCC12-Base
Healthy hair & scalp is the blueprint that each HEALIUM product has been born from. By combining formulations from one of the finest professional hair care chemists, along with ingredient consultation from a renowned medicinal doctor specializing in botanical benefits, we have developed a cleaner, lighter and healthier alternative in working hair care products. Healium 5 professional products, with UV sunscreen protectors, provide the finest prescriptive hair care available. To round off the experience, super clean light fragrances finish a collection of products that perform with both extraordinary results and with a healthy twist. All HEALIUM 5 products feature our 5 exclusive complexes:
​
Hydration, Protein, Oils, Amino Acids, & Vitamins are guaranteed to perform without build up, flaking, dusting, or drying & are 100% water soluble. With steady use, these products will result in noticeable healthier hair & scalp. When used in regular regimens, Healium 5 products help promote long-term healthier hair, making it the finest hair care that you will ever use.
Our research chemists have specially customized 5 exclusive, unique & universally beneficial Complexes that fortify all Healium 5 formulations. These Complexes, comprised of Vitamins, Hydration, Protein, Natural Oils & Amino Acids are fortified with over 25 natural soothing & healing ingredients, making Healium 5 the finest professional hair care products available.
We offer FREE Standard Shipping on all U.S. merchandise orders $50 and over (excluding taxes).
Shipping Method
Costs
Total Delivery Time
REGULAR SHIPPING


$50.00 and up

FREE
5-8 BUSINESS DAYS
STANDARD SHIPPING


$0.00 - $49.99

$5.95
3-5 BUSINESS DAYS
PRIORITY MAIL


$0.00 and up

$9.95
3-5 BUSINESS DAYS
PRIORITY MAIL EXPRESS


$0.00 and up

$16.95
2-3 BUSINESS DAYS
We hope that you will be pleased with your order. If for any reason you're dissatisfied with your purchase, we will gladly offer a refund or exchange on all products returned to us within 45 days from the time of purchase, provided they are returned in their original packaging, in an unopened and unused condition.
Learn more about our SHIPPING and RETURNS AND EXCHANGES policies.