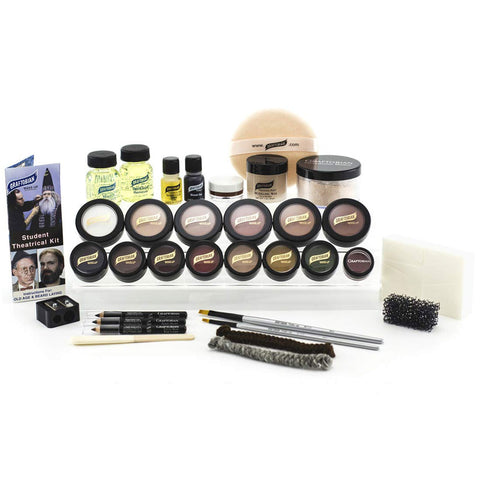 GRAFTOBIAN STUDENT THEATRICAL MAKEUP KIT DELUXE - MEDIUM
The Deluxe Theatrical Makeup Kits are unisex kits designed to give a serious drama student the makeup and tools necessary to practice the craft of character creation through outward appearance...
The Deluxe Theatrical Makeup Kits are unisex kits designed to give a serious drama student the makeup and tools necessary to practice the craft of character creation through outward appearance modification.
Note: These instructions are generic in that the specific shades of foundation, creme liners, pencils, and crepe wool may be different than the colors in your kit. However, the techniques mentioned with respect to these items will be the same regardless of the specific colors you are using. When creating a character, you will always have an overall foundation color, then you will have one or two shades that are darker for creating hollows, wrinkles and shadows. You will also have one or two shades that are lighter as your highlight color(s). Take a look at your kit and determine which of your colors fit those descriptions and function from that premise.
Optional: If you are using this instruction sheet in conjunction with one of our small student kits, you will need to pick up some crepe wool, spirit gum & spirit gum remover and a good pair of scissors to accomplish the beard laying portion of the instructions. Even if you have one of our deluxe kits, it's recommended that you pick up a bit of extra crepe wool so you can have enough wool to get some practice in.
Before You Start: Your make-up should be applied in a clean, well lit area. Give yourself plenty of room, and arrange your materials neatly in front of you. If you are doing the make-up on yourself, make sure you have an amply sized, well lit mirror. Wear old clothes-- making up can get messy! Make-up should always be applied to clean skin, so wash your hands and face and you are ready to begin.
Time Needed: This will require 45 -60 Minutes to complete.
Please Note: If you have any known allergies to any of the listed ingredients of any of the components of this kit, do not use that component. Select a shade or item from your dealer's stock that will give you a similar effect or serve a similar purpose but does not contain the ingredient to which you react. If any of the products contained in this kit cause discomfort, remove as instructed and discontinue use.
This kit includes:
6-1/2 oz. creme foundations,
8-1/4 oz. creme lining/highlighting/rouge shades,
3 pencils,
2 brushes,
2 pieces of crepe wool,
Powder and puff,
Latex and stipple sponges,
Eyebrow brush,
Modeling wax,
Spirit gum & remover,
Make-Up remover,
Hair whitening stick,
Stage Blood,
Lip color,
Instructions showing beard laying and old age make-up, written by NYC make-up artist, Jay Pearlman.
This kit has it all!
Graftobian Makeup Co. is a family run, United States, manufacturing business based in Madison, WI and in Brooklyn, NY. Two families with one goal: Make THE best make-up and sell at a fair price. With distribution worldwide, Graftobian make-up is all the make-up you will ever need!
Graftobian Make-Up Co. established in 1978, is a manufacturer and distributor of virtually every type of make-up. DISGUISE STIX® Face Painting Make-Up, Color and Glitter Hairsprays and Gels, Graftobian Theatrical® Make-Up and accessories for stage, TV, film, special effects, etc. and most recently Graftobian HD Glamour Make-Up, the best Hi-Def Make-up for TV, Film and Print Media Beauty and Fashion work.
Graftobian takes pride in the fact that we manufacture our products here in the United States. In these times of uncertainty regarding certain foreign products and their ingredients, you can rest assured that Graftobian Makeup Company produces Safe, Professional cosmetics which comply with the U.S. FDA regulations for ingredients and labeling. The FDA works tirelessly to test and categorize various cosmetic ingredients as safe. When the FDA rules that an ingredient is to be "delisted" that is the law as far as Graftobian is concerned. Our product ingredients are top quality, cosmetic grade, FDA approved ingredients - ONLY! Our cosmetics do not contain Lead, are fragrance free and formaldehyde free! Our cosmetics are not tested on animals, other than humans of course. ;-)
We offer FREE Standard Shipping on all U.S. merchandise orders $50 and over (excluding taxes).
Shipping Method
Costs
Total Delivery Time
REGULAR SHIPPING


$50.00 and up

FREE
5-8 BUSINESS DAYS
STANDARD SHIPPING


$0.00 - $49.99

$5.95
3-5 BUSINESS DAYS
PRIORITY MAIL


$0.00 and up

$9.95
3-5 BUSINESS DAYS
PRIORITY MAIL EXPRESS


$0.00 and up

$16.95
2-3 BUSINESS DAYS
We hope that you will be pleased with your order. If for any reason you're dissatisfied with your purchase, we will gladly offer a refund or exchange on all products returned to us within 45 days from the time of purchase, provided they are returned in their original packaging, in an unopened and unused condition.
Learn more about our SHIPPING and RETURNS AND EXCHANGES policies.