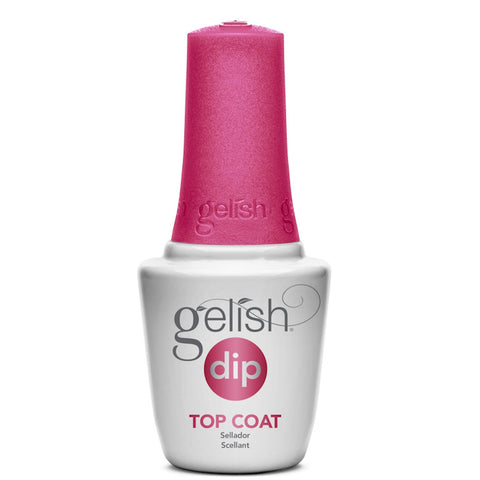 GELISH DIP ESSENTIALS TOP COAT
Gelish Dip Top Coat. It provides extra strength and support to the finished application as well as perfect clarity and a high gloss shine. Contains vitamin A and E as well...
Gelish Dip Top Coat
. It provides extra strength and support to the finished application as well as perfect clarity and a high gloss shine. Contains vitamin A and E as well as calcium to help protect the natural nail during wear.
Apply two thin even coats to each nail and allow nails to air-dry. No lamp necessary to cure.
It's important to keep the neck of the bottle clean from the liquid. Otherwise, it will be very difficult to open the bottle.
Gelish.
Done Right. From the Start.
As Nail Artists ourselves, we understand that nothing is more important than the tools of our craft and nothing is more challenging than product inconsistencies. It has been and always will be that quality is our #1 priority.
Gelish® was the first brush-in-bottle gel-polish ever invented. The US and International patented formulation proves that fact.
The fact that millions and millions of bottles have been sold to-and reordered again and again by- thousands of salons is further proof. So, the fact is, the innovative Gelish system, still the best on the market no matter who else followed, continues as the one most trusted by nail techs worldwide.
Our success is measured by your success. We are commited to you, the nail technician, to provide the best products, to share our knowledge through unprecedented education, therefore developing long lasting customer loyalty.
Hand & Nail Harmony, a professional nail enhancement manufacturer seeks to:
PROVIDE the salon industry with all of the tools needed to help make salon businesses even more successful with the latest and greatest in nail products.
ESTABLISH opportunity for learning through proper education and training courses domestically and internationally.
CREATE superiority within the industry as the go-to nail manufacturer for state-of-the-art products, proven to perform to the best of standards while upholding the motto "Done right from the start."
UNDERSTAND the needs of the salon industry. As nail professional ourselves, we have a clear understanding of the industry and the demand for the highest quality products and services possible – which is why quality has and will always be our number one History
Hand & Nail Harmony History
Hand & Nail Harmony was established in 2009 by Danny Haile, CEO and Founder. Prior to this development, Haile made a name for himself on the nail competition circuit while working at his first successful start-up company; winning over 60 awards in the U.S. and worldwide. Haile was more famously known for his precision in working with acrylic products and was declared two-time International Champion, specializing in Competition Pink and White Acrylic nails. His passion led to his role as Product Developer where he found himself consulting with top companies in the industry.
It was at that point when Haile was ready for his next challenge. Haile's experiences allowed him to see a need to fill a gap in the market. That gap was the separation of gel and bottle. Fueled by the idea of merging the two, Haile created, what is now popularly known simply as Gelish.
Gelish Soak-Off Gel Polish revolutionized the industry. Gelish was the first gel polish to be packaged in a bottle, with a brush, as a quick, easy and efficient gel application process. Since 2009, Gelish has produced over 100 colors and counting, and sold in over 80 countries worldwide.
Hand & Nail Harmony, with the help of its successful brand Gelish, now occupies a 220,000 square foot facility in Brea, California with the support of approximately 300 employees.
Haile's more recent project is the launch of his new lacquer line, Morgan Taylor, named after Haile's daughter (Morgan) and his business partner David Daniel's daughter (Taylor). With over 25 years of experience, Haile and Daniel will once again transform the industry, with lacquer that is specially formulated to exceed all other competition.
The growth of the company continues to flourish as Hand & Nail Harmony continues to provide surpassing products and meets the demand of the industry. As Danny Haile has said himself "great products accomplish great things."
We offer FREE Standard Shipping on all U.S. merchandise orders $50 and over (excluding taxes).
Shipping Method
Costs
Total Delivery Time
REGULAR SHIPPING


$50.00 and up

FREE
5-8 BUSINESS DAYS
STANDARD SHIPPING


$0.00 - $49.99

$5.95
3-5 BUSINESS DAYS
PRIORITY MAIL


$0.00 and up

$9.95
3-5 BUSINESS DAYS
PRIORITY MAIL EXPRESS


$0.00 and up

$16.95
2-3 BUSINESS DAYS
We hope that you will be pleased with your order. If for any reason you're dissatisfied with your purchase, we will gladly offer a refund or exchange on all products returned to us within 45 days from the time of purchase, provided they are returned in their original packaging, in an unopened and unused condition.
Learn more about our SHIPPING and RETURNS AND EXCHANGES policies.