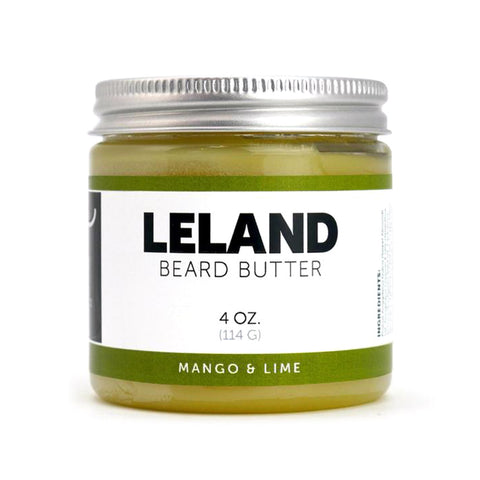 DETROIT GROOMING CO BEARD BUTTER - LELAND
Our Premium Leland Beard Butter is inspired by the unique community of Leland, MI. The area is located on the northwestern coast of Michigan and, although small, is refreshingly energizing and...
Our Premium Leland Beard Butter is inspired by the unique community of Leland, MI. The area is located on the northwestern coast of Michigan and, although small, is refreshingly energizing and active just like it's mango & lime scent!
In addition, all our beard butters are made with the finest ingredients that include organic + natural oils that are vitamin-rich to give your beard everything it needs for nourishment and look!
Our beard butter also contain a high content of mono-saturated fatty acids, making them some of the most intensely moisturizing beard butter available. They're chock-full of antioxidants and proteins to help repair your skin and hair. Growing a beard? Want to know how to grow a goatee, or how to grow a long beard that'll actually look good? Do you have coarse beard hair, or a dry beard, and want a softer beard that's well nourished? These butters provide the most complete answers to the question of how to grow a beard. They don't clog pores so they actually help promote beard growth! We have what you need, wherever you are in your beard growing journey. Let your beard grow!
The best way to apply our beard butter is on a washed beard, and for this you can use our premium all natural beard wash. To use our beard butter, scrape about a dime's worth out of the beard butter jar with your finger and rub together with your hands to heat up the butter. Next, get the beard butter through your entire beard first with your hands, and then with a stainless steel beard comb to style & tame how you want.
Prunus, Amygdalus Dulcis (sweet almond oil), Tocopherol (vitamin E oil), Helianthis Annus (sunflower) seed oil, Carthamus tinctorius (saflower) seed oil, Oryza Sativa (rice) bran oil, Prunus armeniaca (apricot) kernal oil, Peresea Gratissima (avocado) oill, Triticum Vulgare, (Wheat) germ oil, Cera Alba (beeswax), Butyrospermum Parkii (unrefined shea butter), Cocos Nucifera (coconut) oil, Fragrance (essential oils)
About Us
The Detroit Grooming Company is the best place to get the finest handcrafted beard oils and men's grooming products. We offer beard oils, combs, beard butter, a full line of men's hair care, grooming kits, and so much more.
Detroit Grooming Co. is a product line for a man of the times. Any time. What began as a search for a superior product has resulted in a timeless and classic creation of our own. Our product line has expanded to include categories in shaving, personal care, creams & cleansers, and hair care. With an eye on quality and the environment, we promise to bring you the best available ingredients without further endangering rare flora or fauna, all the while giving a man what he deserves, a superb product.
Everything has a small beginning. – Cicero
In November of 2013, an idea was born, and like some ideas, it happened in a somewhat inglorious way. I had been seated outside on my porch in the blustery cold, thinking of ways to start something great. I had heard a quote, "Love what you do and you'll never work a day in your life."
It had become a mantra and fed an unstoppable aching drive to make a difference in my life and others. Then, my beard started to itch.
I had come inside and realized that it wasn't snow on my coat after all. I hated it. I tried to grow my beard out and every time I did, I'd shave it after a few weeks because of the intolerable beard itch and the dry skin. So I started doing some research and found out about a little something called Beard Oil.
Without friends, even the most agreeable pursuits become tedious. – Aquinas
It was then that I asked my good friend Shaun to accompany me on a journey to help men with a nagging and very solvable issue plaguing beards everywhere. We had tried quite a few beard oils and they either smelled too much like medicine, or outright didn't work. So we took to our task. It was our first step to what led us in forming what is now known as Detroit Grooming Co.
2014 presented every challenge possible. Research and development took much of our time but we wanted to get it right. We blended oil after oil together, kept testing yet kept failing. Scents wouldn't hold, the oils weren't right, and negative things started to pile up. In fact, our failures could be measured in height and weight.
Finally, we struck a truly exceptional base blend. One that held scent, was made of amazing plant-based wholesome goodness, and made our beards feel like something truly special. Our first two beard oils were Mackinac and Orchard Lake, followed soon after by the legendary Corktown Beard Oil and the unscented Downtown oil.
The company began to grow organically and the first 5 orders of our beard oils went to exotic places like California, Florida, and Arizona. The growth was gradual but strong and from those core products, everything else was born. Beard butter, Hair Pomade, Beard Wash, Shampoo, all followed and we started to grow into our name and our brand. Our early customers shaped our growth as word of Detroit Grooming began to spread nationally and internationally.
A ship in harbor is safe, but that's not what ships are built for. – Shedd
In early 2016 we hit some rough seas with a former partner and within a few months, we faced a shutdown. Everything we held dear about our brand and the company was in jeopardy. Then something pleasantly unexpected happened. After a trying set of months in midyear, two men showed up on the scene and injected life into what could have been catastrophe. Steve and Victor were men who shared our vision and came from a similar place in regards to pure unbridled passion for this brand. They loved what we stood for and wanted to see the brand reach new and amazing places.
If you are working on something exciting...you don't have to be pushed. The vision pulls you. – Steve Jobs
We come from the point of view that men deserve something uniquely theirs. Not just for beards, and not just for shaving, but also for all men's needs in grooming. We'd like you to start and finish your day with us, and we'd love to be on your journey everyday. We promise to provide the luxury of quality essentials to care for your everyday needs with products that actually work and don't have any cheaply made or quirky counterparts. There's enough of that in the men's grooming world and we don't ever want to play that game. We'll bring you just the good stuff and some quality content that you can actually use everyday. So sign up for our newsletter below and stay on top of your grooming game..
Although we have people at the helm here, we have a set of beliefs that guide our decision-making. It's our identity and keeps us focused on bringing you the best in grooming today.
We offer FREE Standard Shipping on all U.S. merchandise orders $50 and over (excluding taxes).
Shipping Method
Costs
Total Delivery Time
REGULAR SHIPPING


$50.00 and up

FREE
5-8 BUSINESS DAYS
STANDARD SHIPPING


$0.00 - $49.99

$5.95
3-5 BUSINESS DAYS
PRIORITY MAIL


$0.00 and up

$9.95
3-5 BUSINESS DAYS
PRIORITY MAIL EXPRESS


$0.00 and up

$16.95
2-3 BUSINESS DAYS
We hope that you will be pleased with your order. If for any reason you're dissatisfied with your purchase, we will gladly offer a refund or exchange on all products returned to us within 45 days from the time of purchase, provided they are returned in their original packaging, in an unopened and unused condition.
Learn more about our SHIPPING and RETURNS AND EXCHANGES policies.