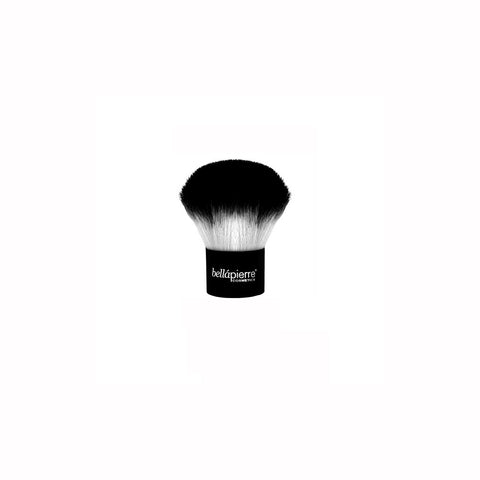 BELLAPIERRE COSMETICS Kabuki Brush
The best-selling Kabuki Brush is perfect for all over Mineral Foundation application. This super soft, dense brush distributes product evenly and quickly, making it a staple for any mineral makeup...
The best-selling Kabuki Brush is perfect for all over Mineral Foundation application. This super soft, dense brush distributes product evenly and quickly, making it a staple for any mineral makeup routine. It can also be used with powder, or to blend face makeup for a more natural look. This is a cruelty-free brush, and is made of 100% synthetic fibers that will not shed during makeup application.
Bellapierre Professional makeup brushes are essential for flawless makeup application! Whether you use pressed or loose mineral makeup, we have an extensive collection of professional quality brushes to choose from! We have a variety of different types of makeup brushes for all different types of makeup applications, such as for blush, concealer, powder, eyeliner, eye shadow, and other brush sets with multiple brushes. Quality brushes allow you to apply your makeup easier, faster, and also make the experience more comfortable since they are made in specific shapes and sizes for whatever job is at hand. You don't want your brushes to feel painful going across your face. Many women overlook the necessity of having good quality brushes, especially since most products you purchase already include applicators. These applicators tend to be poor quality and hard on your skin. Buying a separate set is very important to how well the makeup application process comes out in the end. If you have never used professional makeup brushes before, you will be amazed at how smooth and flawless your makeup will look when you choose Bellapierre!
THE NEXT GENERATION OF MINERAL MAKEUP!
---
Bellápierre Cosmetics is one of the fastest growing mineral make-up companies in the world.
Founder of the company, David Oren, is a key player in the manufacturing of natural cosmetics. Being in the cosmetics industry since 2000, he has developed a passion for quality and purity; not just a business idea.

In 2005, following on from the great success with his line of skincare, David decided it was time to move forward and try something new. Having realized that the cosmetics trends were moving towards natural, organic products, David began researching one idea in particular which seemed to be forming a niche in the cosmetics industry: mineral makeup. Shortly after, Bellápierre was born.

Bellápierre Cosmetics products are unique because of the fact that we produce and manufacture our own products, enabling us to respond quickly as the cosmetic market trends change. The diversity of our color pigments and the fact that our mineral make up product line is all based on natural ingredients appeals to all skin types and tones.
IT'S ONLY NATURAL...
---
Have you ever wondered how the Hollywood stars always have such flawless skin?

Hollywood makeup artists rave about the incredible coverage of the mineral powders. Skincare professionals used to only use mineral foundation for special cosmetics needs, but because the natural skincare results are simply astounding, it is quickly becoming the makeup of choice for all professional makeup artists.
NATURAL AND PURE
---
Women love colour, but they want their mineral make up to look natural. This is exactly what Bellápierre delivers - a product which, by itself, looks subtle but makes the skin glow with a natural vibrancy; characteristic of youthful and healthy skin.

Purity also explains the ultra-smooth texture and versatility of Bellápierre Shimmer Powders. Even the sheerest of applications goes on smooth, creamy and consistent and will not clump or fade.

Other cosmetics are stretched with a variety of fillers to bulk-up the quantity of the product and the margin of profit. Not only do these products cause caking and creasing, but they can cause skin irritation, rashes, and allergic reactions.

We believe that our customer wants and deserves purity, quality and a good value for their money, with natural skincare.
We offer FREE Standard Shipping on all U.S. merchandise orders $50 and over (excluding taxes).
Shipping Method
Costs
Total Delivery Time
REGULAR SHIPPING


$50.00 and up

FREE
5-8 BUSINESS DAYS
STANDARD SHIPPING


$0.00 - $49.99

$5.95
3-5 BUSINESS DAYS
PRIORITY MAIL


$0.00 and up

$9.95
3-5 BUSINESS DAYS
PRIORITY MAIL EXPRESS


$0.00 and up

$16.95
2-3 BUSINESS DAYS
We hope that you will be pleased with your order. If for any reason you're dissatisfied with your purchase, we will gladly offer a refund or exchange on all products returned to us within 45 days from the time of purchase, provided they are returned in their original packaging, in an unopened and unused condition.
Learn more about our SHIPPING and RETURNS AND EXCHANGES policies.